Conveyor Belts for injection moulding machines
Link Maschinenhandel is pleased to be able to offer you the belt conveyors types 4060, 4061, 4062 and 4081 again.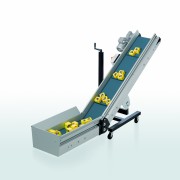 Angle Conveyor Type 4061
The angle conveyor Type 4061 is a truly universal belt conveyor; with the angle between the vertical and horizontal sections up to 45°. A new kind of hinge joint together with an automatic tensioning device allows a constant tension of the belt at every angle setting. The belt tension no longer requires adjustment.

---
PDF Details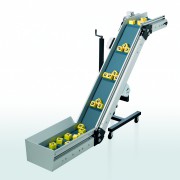 Z-Conveyor Type 4062
The Z- conveyor Type 4062 is a truly universal belt conveyor with considerable adjustment of the angle between the inclined and horizontal sections, and between the inclined section and the nose. High-tech frame hinges work together with hydraulic cylinder belt tensioning station to assure constant belt tension at every possible angle. Re-tensioning of the belt after angle adjustment is not necessary.

---
PDF Details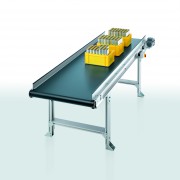 Belt Conveyor Type 4081
The Belt conveyor type 4081 is designed for the transport of single goods including parts, cartons, cases, etc.
Attractive design, modern materials e.g. aluminum alloy and high-quality plastics are the main components of this conveyor.

---
PDF Details
For all belt conveyors as well as separators supplied by Link Maschinenhandel up to now, we will of course continue to take care of the spare parts procurement and are looking forward to your order.